2022 Alfa Romeo Giulia vs 2022 Kia Stinger Sedans in Colorado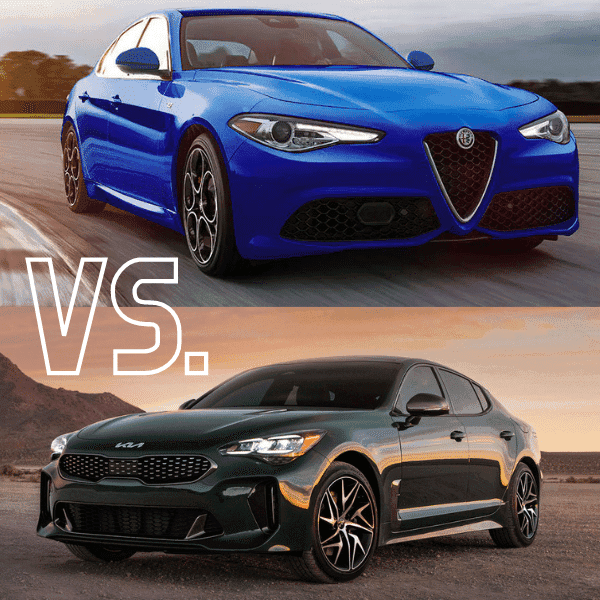 2022 Alfa Romeo Giulia vs. 2022 Kia Stinger
In the realm of high-performance sedans, there are not many that offer the regality and the rarified air of the 2022 Alfa Romeo Giulia. Built on an illustrious pedigree of top-performing luxury vehicles, the Giulia delivers an all-encompassing driving experience that Denver Metro drivers and those all around Colorado will adore. Compared to less exotic models such as the 2022 Kia Stinger, the Giulia showcases its all-around superior ride with a comparable powertrain, better efficiency, and a whole host of superb interior features.  
Performance
The turbocharged 2.0L four-cylinder engine that the 2022 Alfa Romeo Giulia packs delivers a smooth, yet robust 280 horsepower to whatever Colorado road it finds itself on. All this performance is channeled through its eight-speed automatic transmission to give the driver an enjoyable experience behind the wheel. The 2022 Kia Stinger, it is propelled by a baseline turbocharged 2.5L four-cylinder engine that generates 300 horsepower. An automatic eight-speed transmission also accompanies the Stinger's engine. While the Stinger offers slightly better performance, the fact that the Giulia remains competitive and delivers better fuel economy makes it a more practical choice. Both vehicles come with standard RWD platforms, while they can also have AWD on select trim levels.  
Interior Features
While both sedans offer plenty of interior space, the 2022 Giulia edges out the Stinger with 95 cubic feet of passenger space compared to the Stinger and its 93.8 cubic feet. The interior of the Giulia is also adorned with premium materials to give the upscale feel that is a trademark of every Alfa Romeo vehicle. Both the Giulia and the Stinger offer a diverse array of standard multimedia applications from their respective systems. These include premium options such as integrated navigation. They also allow passengers to connect compatible smartphones through options such as Apple CarPlay, Android Auto, and Bluetooth®.  
Safety Features
Both the 2022 Giulia and the 2022 Stinger offer a plethora of standard safety and other assistive technology to help keep their drivers protected from virtually any situation. While the 2022 Stinger offers a system called Blind-Spot Collision-Avoidance Assist, the 2022 Giulia offers a complete Blind Spot Monitoring system as a standard feature. The Stinger has this available on select trim levels. Respective versions of Adaptive Cruise Control are present on all trim levels of both the 2022 Alfa Romeo Giulia and the 2022 Kia Stinger.  
Learn More About the 2022 Alfa Romeo Giulia at Mike Ward Alfa Romeo of South Denver
If you desire a sedan that delivers every element of an excellent cruising experience, then Mike Ward Alfa Romeo of South Denver is the place to go in Highlands Ranch for the 2022 Alfa Romeo Giulia. We are happy to provide you with information about the Giulia model that you will most enjoy. Our reputable sales team is why we are a trusted luxury brand dealer in the Denver Metro region!  
 

2022 Alfa Romeo Giulia  

 

2022 Kia Stinger

 

Base MSRP

 

$42,550

 

$37,365

 

Horsepower

 

280 HP

 

300 HP

 

City Estimated MPG:

 

24 MPG

 

22 MPG

 

Highway Estimated MPG:  

 

33 MPG

 

32 MPG