2022 Alfa Romeo Stelvio vs 2022 Lexus RX 350 in Colorado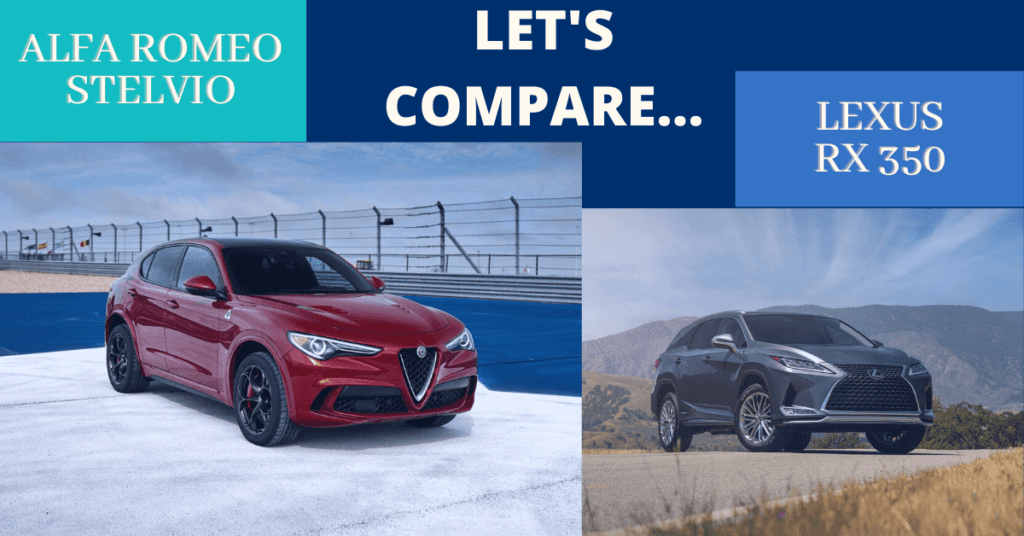 2022 Alfa Romeo Stelvio vs. 2022 Lexus RX 350
The 2022 Alfa Romeo Stelvio commands the road with its classic design and energetic powertrain. This is a premium SUV for everyday Colorado driving needs. Passengers will enjoy having the interior amenities available to them, as well as plenty of room to move around comfortably. Options such as the 2022 Lexus RX 350 offer their unique take on the luxury SUV experience. However, they fail to capture the classy design and history of Alfa Romeo.  
Performance
Powering the 2022 Alfa Romeo Stelvio at the base level is a turbocharged 2.0L four-cylinder engine. With 280 horsepower at its command, the SUV provides a satisfying burst of speed with every press of the accelerator. For the 2022 Lexus RX 350, its standard engine is a 3.5L V6 engine with 295 horsepower. Where the Stelvio exceeds the RX 350 as a performance SUV is in its ability to equip a powertrain capable of generating 505 horsepower in the Stelvio Quadrifoglio. The 2022 Stelvio comes with RWD as its standard drivetrain, while the 2022 Rx 350 has FWD. Both can be equipped with AWD if more intensive handling performance is needed.  
Interior Features
When passengers step into the 2022 Alfa Romeo Stelvio, they are met with a cabin that exemplifies superior comfort and convenience. Unlike the 2022 Lexus RX 350, the Stelvio comes with desired wintertime features standard such as heated front seating and a heated steering wheel. The Lexus gets these as available options on the base trim level and standard on upper-level trims. In terms of standard infotainment features, the Stelvio is also a step above the Lexus with its integrated navigation system. Every Stelvio gets to enjoy the convenience of easy-to-follow directions to destinations all across Colorado, while buyers of the Lexus must pay for an additional package or upper-level trim.  
Safety Features
The Lexus and Alfa Romeo both come loaded with plenty of premium driver-assistance technology to help keep everyone in the SUVs safe. Ranging from Automatic Emergency Braking to Lane Departure Warning, the Stelvio and the RX 350 have the tools to continually monitor the situation around the vehicle. Both SUVs also benefit from the modern convenience of Adaptive Cruise Control as a standard feature. When operational, drivers will find their time on the highway much more enjoyable and less tiring overall.  
Purchase or Lease the 2022 Alfa Romeo Stelvio at Mike Ward Alfa Romeo of South Denver
The staff at Mike Ward Alfa Romeo of South Denver wants to help you find the 2022 Alfa Romeo Stelvio SUV that you and your family will love driving around in. Stop by our Highlands Ranch dealership today and find out how we can get you behind the wheel of a Stelvio that fits your needs. When you choose to shop with Mike Ward, you are getting a premier vehicle shopping experience in the Denver Metro region.  
 

2022 Alfa Romeo Stelvio   

 

2022 Lexus RX 350

 

Base MSRP

 

$46,245

 

$46,645

 

Horsepower

 

280 HP

 

295 HP

 

City Estimated MPG:

 

22 MPG

  

20 MPG

 

Highway Estimated MPG:  

 

29 MPG

 

27 MPG