2022 Alfa Romeo Stelvio vs 2022 Porsche Macan in Colorado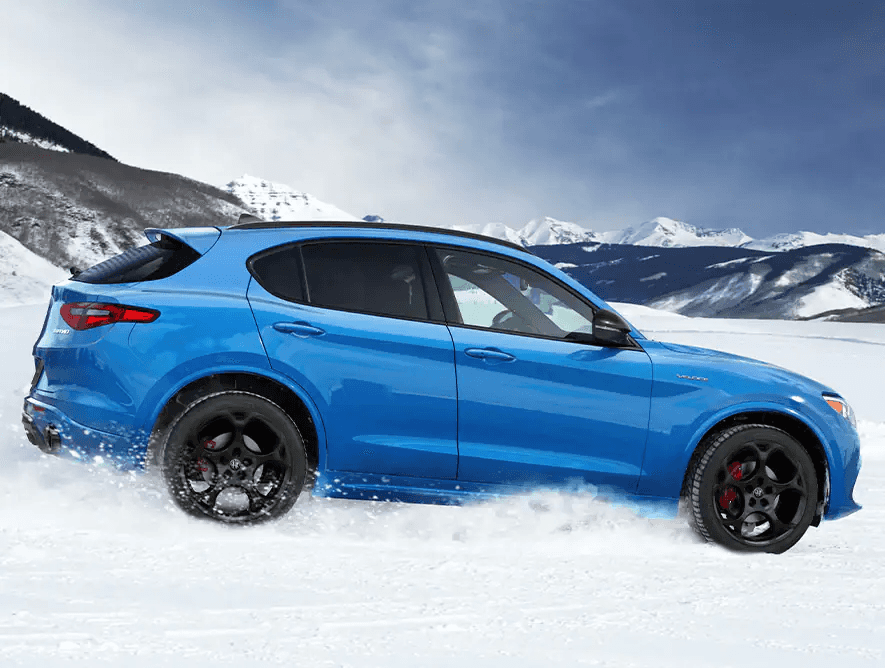 2022 Alfa Romeo Stelvio vs 2022 Porsche Macan
In the world of elite luxury SUVs, the 2022 Alfa Romeo Stelvio provides a classic Italian design that appeals to every sense. Its stunning exterior will draw the attention of curious onlookers, while everyone inside the SUV is treated to an upscale ride thanks to premium materials and interactive elements. Performance in the Stelvio is exceptional as well, making it the complete package for everyday Colorado driving. Compared to direct competition like the 2022 Porsche Macan, Colorado drivers will find many areas where the Alfa Romeo outperforms its counterpart.  
Performance
The 2022 Stelvio provides drivers with more direct performance compared to the 2022 Porsche Macan. Its baseline 2.0L four-cylinder engine is turbocharged to deliver 280 horsepower of on-demand acceleration and overall top speed to whatever road drivers take it on. Paired with its automatic eight-speed transmission, the Stelvio ensures that every ounce of performance is seamlessly smooth. Comparatively, the 2022 Porsche Macan is equipped with its own turbocharged four-cylinder engine. However, with only 261 horsepower to its credit, it lacks the robust edge that the Stelvio offers. Fuel efficiency also easily swings in the way of the Stelvio making it a more valuable option as well. Sporting an EPA-estimated 22 MPG city/29 MPG highway fuel economy compared to the 19 MPG city/25 MPG highway fuel economy of the Macan, the Stelvio outperforms the Macan in many key metrics.   
Interior Features
Boasting 116 total cubic feet of total passenger space, the 2022 Alfa Romeo Stelvio treats every occupant with the joys of plentiful personal space on long trips. Add on numerous cubbies and other storage spaces, and the Stelvio proves to be as convenient as it is luxurious. This attention to detail is something that the Porsche Macan doesn't offer its occupants. Both SUVs are fitted with a superior array of materials to give their cabins a refined feel. They also feature heated functionality in their front seating for all-weather comfort.  
In addition to being premier luxury SUVs in terms of opulence, the Stelvio and the Macan are loaded with premium entertainment and convenience content. One noteworthy difference is that while the Stelvio comes with both Apple CarPlay and Android Auto connectivity for compatible devices, the Porsche only offers Apple CarPlay. This leaves Android smartphone users unable to access their various menus. SiriusXM® satellite radio is also shared between the two SUVs. With standard integrated navigation built into their respective infotainment systems, finding a location anywhere in Colorado is a breeze.  
Safety Features
With standard Automatic Emergency Braking, Forward Collision Mitigation, and Blind Spot Warning all equipped as standard technology in the Stelvio, drivers have access to a variety of resources to keep them safe. Meanwhile, in the Porsche Macan, none of these features are equipped as standard technology. Both SUVs have their handling capabilities supplemented with features such as Electronic Stability Control and Traction Control systems. Combining four-wheel ABS and Brake Assist, both the Alfa Romeo and the Porsche give drivers confidence that they will have ample stopping power on virtually any road condition.  
Purchase or Lease the 2022 Alfa Romeo Stelvio at Mike Ward Alfa Romeo of South Denver
The family of 2022 Alfa Romeo Stelvio SUVs is ready to help Colorado families make lasting memories during their travels. Mike Ward Alfa Romeo of South Denver is a leading Denver Metro luxury vehicle dealer located in Highlands Ranch, CO. Stop by today and let one of our sales associates help you get behind the wheel of a superior luxury SUV that is also powerful and remarkably functional for everyday use.  
 

2022 Alfa Romeo Stelvio

   

2022 Porsche Macan

 

Base MSRP

 

$45,550

 

$57,500

 

Horsepower

 

280 HP

 

261 HP

 

City Estimated MPG:

 

22 MPG

 

19 MPG

 

Highway Estimated MPG:

   

29 MPG

 

25 MPG