Learn About 2023 Alfa Romeo Giulia Quadrifoglio Interior Comfort Features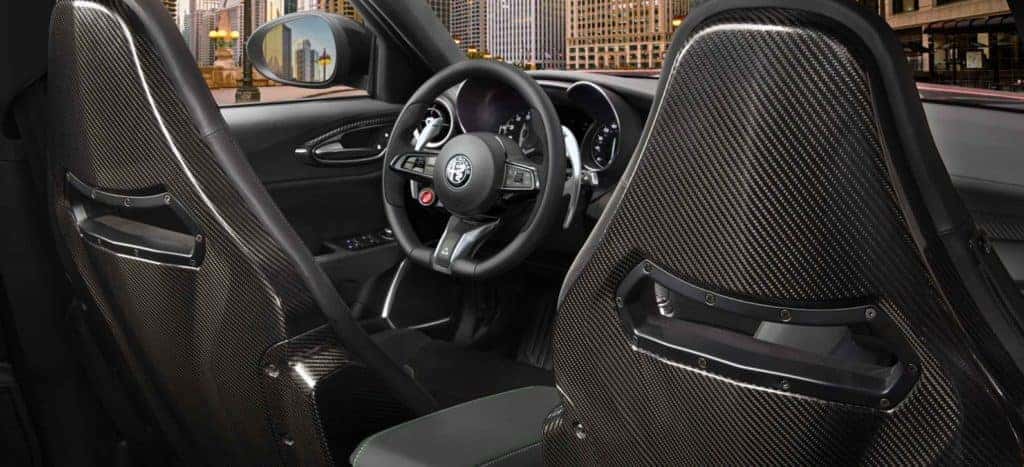 2023 Alfa Romeo Giulia Quadrifoglio Interior Comfort Features
A Superior Sedan Equipped with Premium Materials
The Deluxe Giulia Quadrifoglio Has Plenty of Space to Spare
Superb Materials Found Across the Interior of the Sedan
When interested customers opt for the 2023 Alfa Romeo Giulia Quadrifoglio, they choose a sedan that is equipped with superb materials across the cabin. This includes high-quality leather and a carbon fiber steering wheel. The 95.8 cubic feet of passenger space that all five occupants get to enjoy provides plenty of room for them to comfortably sit in. Premium carpet adorns the floor for another level of high-end visual appeal.
Additional Comfort Technology to Accentuate Every Adventure
Versatile Seating That Comes Loaded with Comfort Technology Such as Heat
Excellent Dual-Zone Climate Control System for Easily Personalized Temperature
Premium materials are not the only element of the 2023 Giulia Quadrifoglio that exudes superior comfort and class. High-end technology elevates comfort capabilities to elite levels of excellence. Starting with the heated functionality in all seats, everyone in the vehicle has access to the versatile comfort potential they deserve in their premier cruiser. Add the 12-way adjustability of the driver's seat and the six-way adjustability of the passenger's seat, and the sedan caters to modern comfort needs. The customization options of the automatic dual-zone climate control system ensure that no matter when in the year the Giulia Quadrifoglio is driven, everyone in the vehicle has the personalized temperature control they deserve.
Learn About 2023 Alfa Romeo Giulia Quadrifoglio Interior Comfort Features with Mike Ward Alfa Romeo of South Denver
The 2023 Alfa Romeo Giulia Quadrifoglio is a sedan that exemplifies the high-class lifestyle you live. Not only do you get a vehicle that exudes superior performance, but it also offers a cabin that is equipped with premium comfort in mind. Visit Mike Ward Alfa Romeo of South Denver in Highlands Ranch, CO, and let us help you get into this sensational vehicle. When you opt to shop with Mike Ward, you are getting the premier customer service that you deserve when shopping for an elite sporty vehicle.
(Photo Credit: Alfa Romeo)