Safety Features Found in the 2023 Alfa Romeo Giulia Quadrifoglio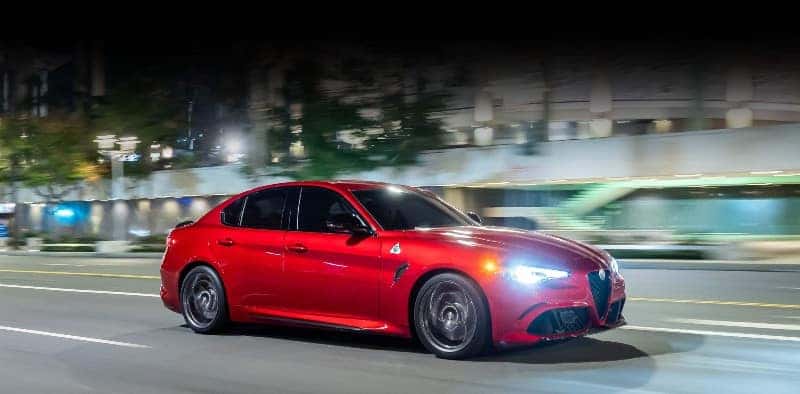 2023 Alfa Romeo Giulia Quadrifoglio Safety Features
A Sportscar with Added Handling Systems for Everyday Driving Precision
When piloting the 2023 Alfa Romeo Giulia Quadrifoglio around a Denver Metro city such as Lone Tree or Broomfield or taking the deluxe sportscar out for a cruise on the highway, the vehicle has its steering inputs elevated through a selection of complementary systems. These include a combination of Electronic Stability Control and Driveline Traction Control to help keep drivers in full command of their vehicle even during the most intensive turning situations. The racing inspiration of the Giulia Quadrifoglio also shines through with its specially designed suspension.
Plenty of Driver-Assistance Features for Everyday Denver Metro Traveling
Not only is the 2023 Alfa Romeo Giulia Quadrifoglio a racing-inspired sedan for the performance-minded vehicle enthusiast, but it also comes equipped with a variety of driver-assistance features to help drivers during trips around town or on the highway. Front Collision Mitigation and Forward Collision Warning work together to ensure that the driver has every opportunity to prevent a frontal accident, and then will further aid the driver if appropriate action isn't taken. Similarly, standard features such as Blind Spot Monitoring and Lane Departure Warning help keep the driver from accidentally going into another lane on the road where an approaching vehicle could be.
Learn More About 2023 Alfa Romeo Giulia Quadrifoglio Safety Features with Mike Ward Alfa Romeo of South Denver
The 2023 Alfa Romeo Giulia Quadrifoglio is the deluxe version of the excellent Giulia lineup, and it proves it with all the ways it helps keep you safe while traveling around the Front Range. Visit Mike Ward Alfa Romeo of South Denver in Highlands Ranch, CO, and speak with one of our sales representatives about how we can help you get into this prestigious sports car today. If you want the feel of a high-end performance vehicle with the everyday functionality of a sedan, the Giulia Quadrifoglio is right for you!
(Photo Credit: Alfa Romeo)