Details About Safety Features in the 2023 Alfa Romeo Giulia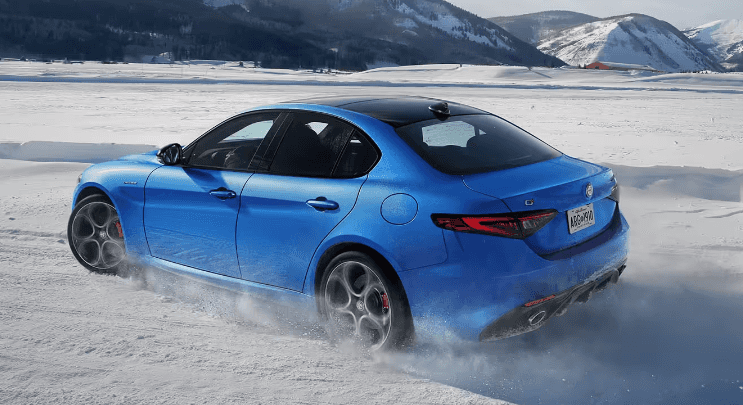 2023 Alfa Romeo Giulia Safety Features
Amplified Handling for Everyday Colorado Driving Sessions
The 2023 Alfa Romeo Giulia establishes itself as a sporty, yet reliable vehicle to operate across the Denver Metro region. When opting for one with the added benefit of AWD handling compared to the standard RWD platform, drivers will get a combination of the best of both agility and comprehensive all-season maneuverability. This is further supplemented by systems such as Electronic Stability Control and Driveline Traction Control to give drivers full command of their Giulia even when the situation on the road gets less than ideal.
Added Driver-Assistance Technology for Daily Driving Scenarios
Having impeccable handling is just part of the reason why the 2023 Giulia is a sporty sedan that is perfectly suited for Colorado travels. The series of standard driver-assistance features found in every version of the Alfa Romeo ensures that drivers are fully protected even during times when surrounded by busy traffic in the city. Forward Collision Mitigation adds a layer of front-end protection to prevent accidents from happening from the front of the Giulia. Every Giulia also comes with standard Blind Spot Warning to give drivers another level of information to use while trying to safely merge between lanes in the city or on the highway.
Learn More About 2023 Alfa Romeo Giulia Safety Features with Mike Ward Alfa Romeo of South Denver
When you purchase a 2023 Alfa Romeo Giulia sedan in Colorado, you are getting a sporty sedan that is still reliable to drive with its wide array of safety features. Visit Mike Ward Alfa Romeo of South Denver in Highlands Ranch, CO, and let us help you learn more about the systems that make the Giulia such a safe vehicle to drive around the Denver Metro region. When you choose Mike Ward for your vehicle purchasing needs in the Front Range, you can count on us to provide you with a personalized and informative shopping experience.
(Photo Credit: Alfa Romeo)