2023 Alfa Romeo Stelvio / 2023 Volvo XC60 Comparison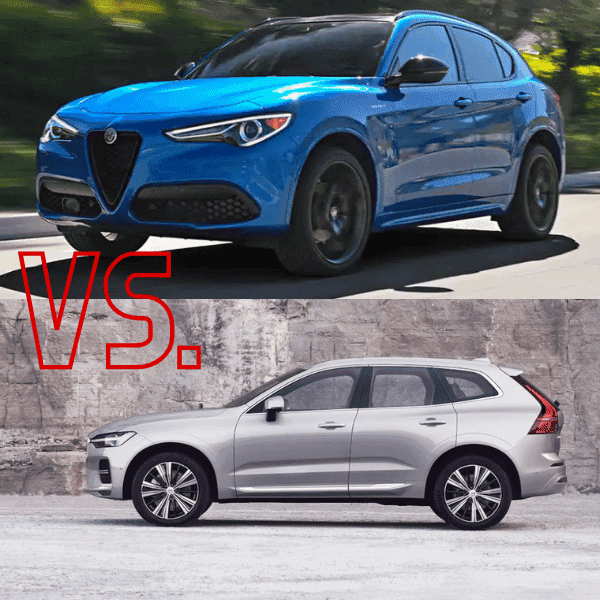 2023 Alfa Romeo Stelvio Compared to the 2023 Volvo XC60
A luxury SUV such as the 2023 Alfa Romeo Stelvio is a special vehicle. Equipped with a vigorous powertrain that still delivers refined smoothness, the Alfa Romeo drives like an agile sportscar. Inside, everyone in the vehicle is also treated to a cabin filled with premium content. Compared to another family cruiser that focuses on luxury such as the 2023 Volvo XC60, there are many reasons why the Italian SUV is the preferred choice over the Volvo.  
Performance
While both vehicles feature 2.0L turbocharged four-cylinder engines as their standard equipment, they are not the same performance generators. The Volvo offers 247 horsepower, while the Stelvio easily comes out on top with 280 horsepower. This performance difference is immediately noticeable with every press of the gas pedal. Both SUVs also come with standard eight-speed automatic transmissions equipped to ensure smooth acceleration that drivers don't need to think about while enjoying the ride. Different standard drivetrains are found on the SUVs. The Stelvio is equipped with a standard RWD platform, while the XC60 features standard FWD.  
Interior Features
The front seating in both vehicles can be adjusted in 10 different ways to cater to a specific driver style, but the Stelvio goes a step further and includes standard heated functionality as well. Interested Colorado drivers looking at the Volvo must opt for a more expensive variation of the SUV to get the same luxury. This same heated functionality also carries over to the steering wheel. Infotainment amenities are plentiful in both SUVs, but the Stelvio has integrated navigation as a part of its standard suite of applications. This premium system is an available option in the baseline Volvo XC60.  
Safety Features
Even though both SUVs are more than capable family cruisers, every 2023 Alfa Romeo Stelvio offers its driver a way to make highway driving a much more enjoyable experience. Standard Adaptive Cruise Control ensures that while proper attention is being placed on the road, the SUV will handle anything speed-related about a highway adventure for the driver. Those looking for Adaptive Cruise Control in the 2023 XC60 must purchase an upgraded version of the SUV. When equipped with their respective AWD systems, both luxurious SUVs also become dynamic all-season options in Colorado.   
Purchase or Lease the 2023 Alfa Romeo Stelvio at Mike Ward Alfa Romeo of South Denver
Visit Mike Ward Alfa Romeo of South Denver in Highlands Ranch, CO, and let us help you find out more information about the 2023 Alfa Romeo Stelvio. When comparing the Italian SUV to a rival such as the 2023 Volvo XC60, you will find that the Stelvio meets more of your expectations across the range of available trims. When you shop with Mike Ward, you also get to have a comprehensive shopping experience that many local Denver Metro drivers have counted on thanks to its hassle-free and informative nature.   
 

2023 Alfa Romeo Stelvio

 

2023 Volvo XC60

 

Base MSRP

 

$46,200

 

$44,545

 

Horsepower

 

280 HP

 

247 HP

 

City Estimated MPG:

 

22 MPG

 

23 MPG

 

Highway Estimated MPG:

                

29 MPG

 

30 MPG

 
(Photo Credit: Alfa Romeo / Volvo)