2023 Alfa Romeo Stelvio Quadrifoglio vs 2023 BMW X3 M in Colorado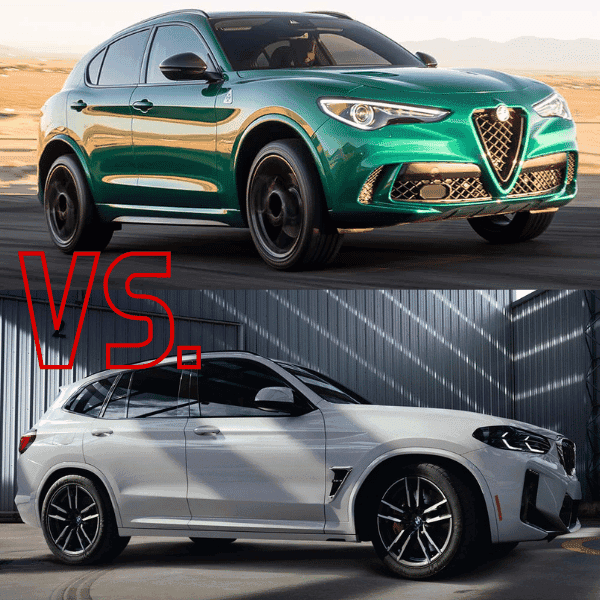 2023 Alfa Romeo Stelvio Quadrifoglio vs. 2023 BMW X3 M
The standard Stelvio is already a top luxury SUV option for a discerning Colorado family to consider. Those who want to take everything to the pinnacle of performance and elegance will adore the top-end 2023 Alfa Romeo Stelvio Quadrifoglio. Equipped with a breathtaking powertrain and loaded with premium interior content, the passengers of a Stelvio Quadrifolgio are treated to the ultimate in class and immersion. Compared to other high-end SUVs like the 2023 BMW X3 M, there are many advantages to owning the Alfa Romeo.  
Performance
When it comes to powertrains, the 2023 Stelvio Quadrifoglio beats the X3 M handily. The twin-turbocharged 2.9L V6 engine under the hood of the Alfa Romeo rumbles around its surroundings with an excellent 505 horsepower. Meanwhile, the 3.0L TwinTurbo engine in the BMW X3 M only generates 473 horsepower in comparison. As such, the driver of the Alfa Romeo will have even more energetic performance to work with in everyday scenarios. Not only does the powertrain have more horsepower, but it uses that energy more efficiently than the BMW. Sporting an EPA-estimated 17 MPG city/23 MPG highway fuel economy compared to the 15 MPG city/20 MPG highway estimates in the BMW, more time gets to be spent on the road as opposed to filling up. Both SUVs are equipped with AWD handling.  
Interior Features
While both SUVs are filled with coveted comfort and entertainment features, the Stelvio Quadrifoglio offers more to enjoy. This includes heated functionality in the rear seating that is absent in the X3 M. Both SUVs have heated functionality in the front seating as a standard comfort feature. Even the steering wheel in the Alfa Romeo is heated for ideal winter cruising comfort. Infotainment amenities found in both vehicles are extensive. These include premium options such as SiriusXM® satellite radio and integrated navigation. Therefore, the Stelvio Quadrifoglio delivers an all-around immersive experience in any season.  
Safety Features
Boasting AWD handling, both the 2023 Stelvio Quadrifoglio and the 2023 X3 M are more than capable winter family cruisers. They also make highway driving a much less tiring experience for the driver thanks to the standard implementation of Adaptive Cruise Control. To help add extra layers of protection in everyday scenarios, systems such as Automatic Emergency Braking are found on both vehicles. Drivers can go on any adventure with confidence that their vehicle is actively protecting them in any situation.  
Learn More About the 2023 Alfa Romeo Stelvio Quadrifoglio at Mike Ward Alfa Romeo of South Denver
Mike Ward Alfa Romeo of South Denver wants you to experience the elite handling, performance, and immersive elements of the 2023 Alfa Romeo Stelvio Quadrifoglio. Visit our Highlands Ranch dealership today for trusted customer service in the Denver Metro region. When you shop with Mike Ward, you can count on us to meet your personal expectations when it comes to high-end vehicle shopping.  
 

2023 Alfa Romeo Stelvio Quadrifoglio

    

2023 BMW X3 M

 

Base MSRP

 

$88,715

 

$75,395

 

Horsepower

 

505 HP

 

473 HP

 

City Estimated MPG:

 

17 MPG

 

15 MPG

 

Highway Estimated MPG:   

 

23 MPG

 

20 MPG