2023 Alfa Romeo Stelvio Quadrifoglio vs 2023 Porsche Cayenne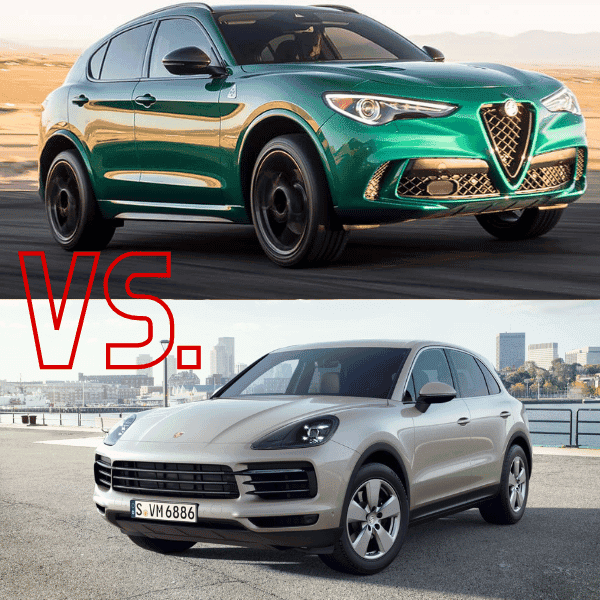 2023 Alfa Romeo Stelvio Quadrifoglio vs. 2023 Porsche Cayenne
Taking everything that makes the standard Stelvio a top luxury SUV and adding even more performance and luxury to the equation, the 2023 Alfa Romeo Stelvio Quadrifoglio is the deluxe iteration that Colorado drivers will adore. Taking inspiration from racing heritage to the design, the Quadrifoglio trim offers sensational performance. The cabin is also well-equipped to cater to the most discerning lifestyles. When the 2023 Alfa Romeo Stelvio Quadrifoglio is compared to relevant competition like the 2023 Porsche Cayenne, interested customers will see that the Stelvio has plenty of advantages over its counterpart.  
Performance
There is no contest when comparing the performance of the Stelvio Quadrifoglio and the Cayenne. The 2.9L twin-turbocharged engine under the hood of the Alfa Romeo is a performance titan with 505 horsepower at the driver's command ready to go. Meanwhile, the base turbocharged V6 engine in the Porsche offers only 335 horsepower. Even the most deluxe Cayenne models can only reach 460 horsepower with the strongest engine equipped. Despite all the extra performance available to the Stelvio Quadrifolgio, it still provides slightly better efficiency than the base Cayenne. This makes it the all-around better choice for drivers who want it all. Both SUVs come with standard AWD handling for confident Colorado driving.  
Interior Features
Another area in which the Stelvio Quadrifoglio shines when compared to the Cayenne is the interior. Heated functionality is present in every seat for the all-season comfort that Denver Metro families will adore. This is lacking in the base Cayenne model and requires a more expensive trim level to get the same comfort capability. Additionally, the steering wheel in the Alfa Romeo is heated as well which is another element the base Porsche lacks. Both SUVs come equipped with plenty of enjoyable infotainment content for elevated ride satisfaction. These include compatibility with Apple CarPlay, Android Auto, and Bluetooth® for applicable smartphones. SiriusXM® radio and integrated navigation functionality are also found as standard systems in the SUVs.  
Safety Features
The standard AWD handling that both SUVs offer makes cruising around Colorado a much more confident experience in any season. Comparing the Stelvio Quadrifoglio to the Cayenne, the Alfa Romeo has standard driver-assistance systems that are optional in the Cayenne. Among the premium options the Alfa Romeo is equipped with are Adaptive Cruise Control and Lane Departure Warning. Customers looking at the Porsche Cayenne need to opt for more expensive trims and packages to get the same features.  
Learn More About the 2023 Alfa Romeo Stelvio Quadrifoglio at Mike Ward Alfa Romeo of South Denver
To experience the superb 2023 Alfa Romeo Stelvio Quadrifoglio for yourself, make your way to Mike Ward Alfa Romeo of South Denver. The sales team at our Highlands Ranch dealership will be happy to supply even more reasons why the deluxe SUV outperforms its Porsche counterpart. For premier customer service in the Denver Metro region and the rest of Colorado, trust Mike Ward today!  
 

2023 Alfa Romeo Stelvio Quadrifoglio

 

2023 Porsche Cayenne

 

Base MSRP

 

$88,715

 

$73,650

 

Horsepower

 

505 HP

 

335 HP

 

City Estimated MPG:

 

17 MPG

 

17 MPG

 

Highway Estimated MPG:               

 

23 MPG

 

22 MPG

 
(Photo Credit: Alfa Romeo / Porsche)