Safety Features Found in the 2023 Alfa Romeo Stelvio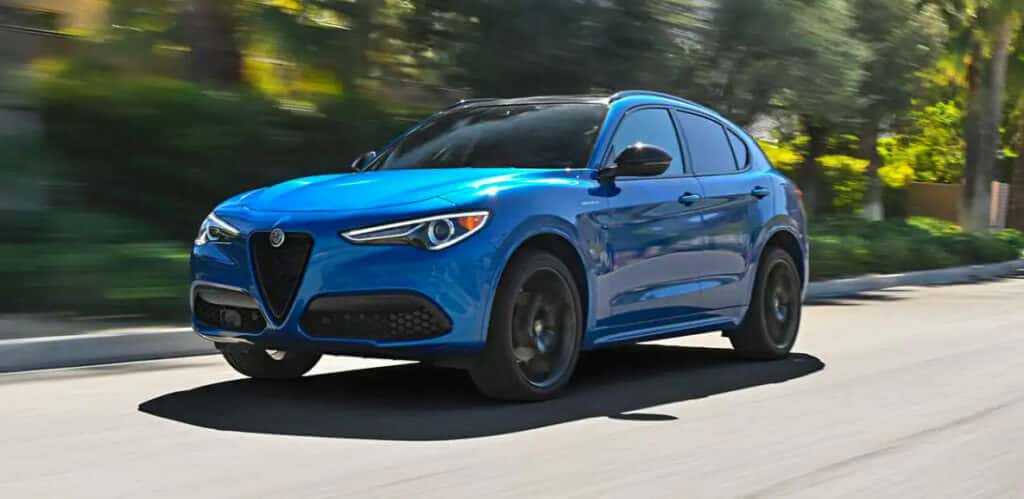 2023 Alfa Romeo Stelvio Safety Features
An All-Around Superior SUV for Everyday Colorado Driving Needs
Colorado drivers looking for a sporty SUV that still maintains a safe and reliable platform to drive on will appreciate what the 2023 Alfa Romeo Stelvio series can provide. For example, opting for one of the models with AWD gives drivers the versatile handling they desire around Colorado throughout the year. This is further enhanced with systems such as Electronic Stability Control and Driveline Traction Control. All of this combines to create an all-around superb family cruiser to pilot around the Denver Metro region and beyond.  
Supplemental Driver-Assistance Features for Greater Reliability 
The wide array of driver-assistance technology that every 2023 Stelvio is equipped with ensures that any adventure ranging from a busy around-town trip to a long highway cruise is supplemented with plenty of safety. For example, the inclusion of standard Automatic Emergency Braking and Forward Collision Warning ensures that drivers have enhanced knowledge and protection when reacting to things going on in front of them on the road. A similar level of coverage is present for the road behind the Stelvio thanks to standard Blind Spot Monitoring technology. Adaptive Cruise Control is a welcome standard feature that makes highway driving less tiring for the driver by handling speed-related elements of the ride while reacting to traffic in real-time.  
Learn More About 2023 Alfa Romeo Stelvio Safety Features with Mike Ward Alfa Romeo of South Denver
With all the safety features that drivers of a 2023 Alfa Romeo Stelvio have access to while navigating Colorado, driving with confidence is an important element of what makes the SUV such a satisfying vehicle to pilot. Visit Mike Ward Alfa Romeo of South Denver today in Highlands Ranch, CO, and let us answer any additional questions you may have about a specific safety feature. If you want to start shopping for a Stelvio with all the driver-assistance technology you want to improve your daily Front Range adventures, choose Mike Ward for a superior customer service experience!  
(Photo Credit: Alfa Romeo)