Interior Comfort Features of the 2023 Alfa Romeo Stelvio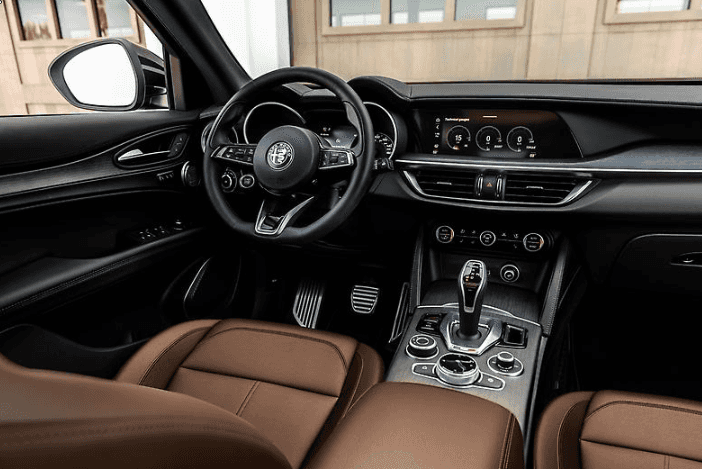 2023 Alfa Romeo Stelvio Interior Comfort
A Classic Italian SUV with Modern Comfort Design
The interior of a 2023 Alfa Romeo Stelvio is designed to be reminiscent of the classic Italian stylings from previous Alfa Romeo vehicles while also bringing modern comfort amenities to the experience. Only high-end materials are included in the construction of the spacious cabin for passengers of the SUV to appreciate. Treated to options such as high-quality leather seat upholstery and other upscale materials, the feel of a 2023 Stelvio makes it the go-to SUV option for discerning Colorado customers and their families.  
Added Comfort Through Bolstered Comfort Amenities
Not only is the cabin of a 2023 Stelvio SUV equipped with all the premium materials one could hope for from a prestigious brand such as Alfa Romeo, but the additional amenities that amplify comfort further promote a welcoming atmosphere. Heated functionality in the front seating is a standard feature in every 2023 Stelvio for all-season comfort excellence. This functionality can be added to the rear seats in upper-level trims of the SUV, while ventilation can be added to the front seats for a fully climate-controlled experience. Standard dual-zone climate control makes customizing the cruising temperature of the Stelvio for passengers a convenient process.  
Learn More About 2023 Alfa Romeo Stelvio Interior Comfort Features at Mike Ward Alfa Romeo of South Denver
When you and your fellow passengers step into a 2023 Alfa Romeo Stelvio, you will appreciate all the attention to a premium cruising experience the SUV features. From upscale materials to plenty of comfort amenities, there are many reasons to purchase a new Stelvio today for enjoyable Colorado driving excursions. Stop by Mike Ward Alfa Romeo of South Denver in Highlands Ranch today and speak with one of our sales representatives. They are eager to find you a Stelvio that is equipped with all the personalized elements you want from your everyday luxury SUV.  
(Photo Credit: Alfa Romeo)