2023 Alfa Romeo Stelvio vs 2023 BMW X3 in Colorado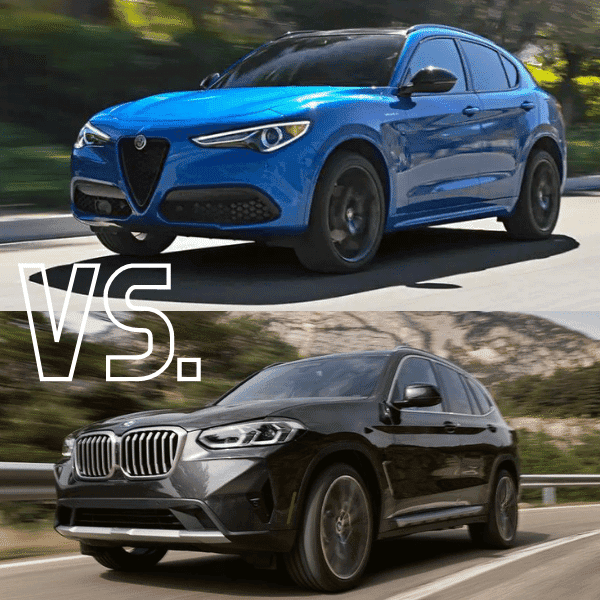 2023 Alfa Romeo Stelvio vs. 2023 BMW X3
As a top option for a premium luxury SUV, the 2023 Alfa Romeo Stelvio delivers a feeling of sophistication that is quintessential Alfa Romeo. It also delivers a level of performance that outdoes competitors, including the 2023 BMW X3. With more on-demand performance than the BMW can offer, the Stelvio is ideal for performance-minded consumers. It also offers a level of interior comfort and immersion that rivals the BMW with ease.  
Performance
While both the 2023 Alfa Romeo Stelvio and the 2023 BMW X3 are equipped with turbocharged 2.0L four-cylinder engines, the Alfa Romeo outmuscles the BMW effortlessly. The Stelvio delivers 280 horsepower, while the X3 only musters 248. This is noteworthy as the engine in the BMW is bolstered with twin turbochargers. Both SUVs are also equipped with automatic eight-speed transmissions as their standard engine accompaniment for smooth acceleration that drivers can count on. Keeping with their sporty nature, both SUVs are equipped with standard RWD platforms. They can also be equipped with AWD if desired.  
Interior Features
The interior of both SUVs showcases the luxury and personality that accentuates the feeling of sophistication both brands want to convey. However, the Stelvio offers its passengers much more space to comfortably sit in. With 116 cubic feet of passenger space compared to the 101.4 cubic feet in the BMW X3, occupants of the Alfa Romeo will feel the extra room to be a welcome bonus to the already luxurious interior. Front seating in the 2023 Stelvio is further pushed ahead of its BMW competitor with the inclusion of standard heated functionality. Both SUVs come loaded with premium infotainment content as standard features, such as integrated navigation systems.  
Safety Features
While both the Alfa Romeo and the BMW offer an extensive array of driver-assistance technology as standard implements, the Alfa Romeo offers drivers even more to work with in every trim level. Even the baseline 2023 Stelvio trim level comes with Adaptive Cruise Control as a standard feature for hassle-free driving around Colorado. This system is not a standard inclusion in the baseline BMW X3. Both vehicles offer supplementary systems such as Electronic Stability Control and Traction Control for enhanced handling, regardless of which drivetrain is equipped on them. 
Purchase or Lease the 2023 Alfa Romeo Stelvio at Mike Ward Alfa Romeo of South Denver
For an SUV that easily outperforms the competition like the 2023 BMW X3 in its performance and standard amenities, the 2023 Alfa Romeo Stelvio has you covered. Visit Mike Ward Alfa Romeo of South Denver today in Highlands Ranch, CO for more information on the Stelvio. We will be happy to answer any additional questions you might have about the premium SUV, as well as find you the trim level that benefits your ideal ride to its fullest.  
 

2023 Alfa Romeo Stelvio  

 

2023 BMW X3

 

Base MSRP

 

$46,200

 

$45,400

 

Horsepower

 

280 HP

 

248 HP

 

City Estimated MPG:

 

22 MPG

 

23 MPG

 

Highway Estimated MPG:  

 

29 MPG

 

29 MPG

 
(Photo Credit: Alfa Romeo)