2024 Alfa Romeo Stelvio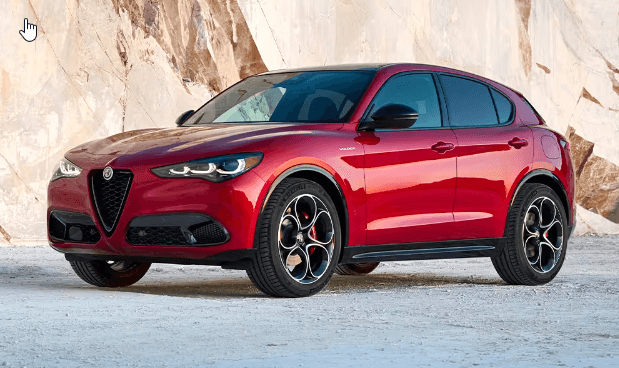 2024 Alfa Romeo Stelvio
BASE MSRP: from $44,775
Horsepower: 280
Estimated City MPG: 22
Estimated Highway MPG: 29 
Get to Know the 2024 Alfa Romeo Stelvio
Colorado drivers have come to appreciate the Stelvio as the Italian SUV full of classic heritage while still staying ahead of the modern needs of today's customers. With the 2024 Alfa Romeo Stelvio, the excellent SUV continues to bring the performance and luxury that has made the vehicle a fan favorite through the Front Range. For the deluxe Quadrifoglio trim level of the Stelvio, there is also a limited-edition 100th Anniversary Edition model to celebrate the momentous milestone. Experience why driving an Alfa Romeo is a fantastic choice in the Denver Metro region while also providing the family with a functional SUV to cater to any everyday task the vehicle is required to undertake.  
2024 Alfa Romeo Stelvio Trims
Across the entire range of 2024 Stelvio trims, there is energetic performance and modern luxury to go along with the classic Italian styling that draws customers to the Alfa Romeo brand. Between the standard powertrain and the even more vigorous Quadrifoglio option, there are also many ways to enjoy cruising around Colorado in the functional SUV. Plenty of space inside the SUV and amenities to enjoy make the Stelvio the premier family cruiser for luxury-minded customers across Colorado.  
2024 Alfa Romeo Stelvio Sprint RWD: MSRP from $44,775
2024 Alfa Romeo Stelvio Sprint AWD: MSRP from $46,775
2024 Alfa Romeo Stelvio Ti AWD: MSRP from $50,225
2024 Alfa Romeo Stelvio Volace AWD: MSRP from $52,185
2024 Alfa Romeo Stelvio Competizione AWD: MSRP from $57,575
2024 Alfa Romeo Stelvio Quadrifoglio: MSRP from $87,875
2024 Alfa Romeo Stelvio Quadrifoglio 100th Anniversary: MSRP from $94,875 
Performance
A Dynamic Turbocharged Four-Cylinder Engine Provides Reliable Everyday Performance

 

The Quadrifoglio Delivers Upgraded Sportscar-Like Power to the Functional SUV

 

Standard RWD on the Sprint and Standard AWD on All Upper-Level Trim Levels

 
Equipped with a turbocharged 2.0L inline-four engine under the hood of the baseline Stelvio and all trims up to the Quadrifoglio, the 2024 Alfa Romeo Stelvio delivers both functional and sporty performance in an SUV. Coupled with the eight-speed automatic transmission that offers responsive gear shifts while maximizing performance, the ride in the Stelvio is all-around dynamic. For those Colorado drivers who want to push the envelope of SUV performance, they can opt for the Quadrifoglio version of the Stelvio and its twin-turbocharged 2.9L V6 engine that offers a substantial 505 horsepower. This makes the family cruiser feel more like a sportscar. RWD is the standard drivetrain for the baseline Sprint version of the 2024 Stelvio, while every other trim level of the SUV is equipped with standard AWD for reliable maneuverability across Colorado in any weather condition.  
Interior Features
A Sublime Interior That is Both Spacious & Fueled by Classic Italian Design

 

Diverse Comfort Amenities to Elevate Any Adventure in the SUV

 

An Extensive Infotainment System Full of Convenience and Entertainment Applications

 
When Colorado customers are looking to purchase a 2024 Alfa Romeo Stelvio, they can count on the SUV to be equipped with all the high-end materials that are typical of a modern luxury brand like Alfa Romeo. They will also appreciate the 116 cubic feet of passenger space that offers all five occupants of the SUV plenty of personal room to comfortably sit and stretch during long journeys across the Front Range. When a large grocery trip is in order, the maximum 56.5 cubic feet of cargo space ensures that these tasks are easily completed. Heated functionality is present in all seats on every iteration of the 2024 Stelvio to provide coveted comfort during winter travels. This can be further upgraded with ventilation in the front seating for a full range of comfort options throughout the year.  
Through the infotainment system found on every version of the 2024 Stelvio, there is plenty of multimedia technology to make sure every passenger is catered to both entertainment and convenience. With a range of standard media outlets such as Bluetooth® Streaming Audio, HD Radio™, and SiriusXM® radio capability, there is a wide array of personalized music and other forms of entertainment ready to be enjoyed by everyone in the vehicle. Compatible smartphones can also connect to the system through Android Auto, Apple CarPlay, and Bluetooth®. Integrated navigation is also found on every iteration of the 2024 Stelvio to make finding new destinations across Colorado a much easier process.  
Safety Features
Optimal Handling Excellence with AWD Equipped

 

Standard Driver-Assistance Technology Suite is Extensive 

 

Road Trips are More Relaxed with Standard Adaptive Cruise Control

 
When opting for a 2024 Alfa Romeo Stelvio model equipped with the responsive AWD platform, the result is an SUV that is a more than capable all-season cruiser for Colorado. This is further supplemented with driver-assistance features that improve handling and help provide active protection and monitoring capabilities. Driveline Traction Control and Electronic Stability Control give the Stelvio the reliable grip that drivers can confidently rely on as they venture across the Front Range in their luxurious SUV. Meanwhile, everyday driving in busy cities is made easier with technology such as Blind Spot Monitoring and Forward Collision Mitigation technology. When the standard Adaptive Cruise Control is operational, highway travels are much less tiring to undertake for the driver of the Stelvio.  
Order the 2024 Alfa Romeo Stelvio at Mike Ward Alfa Romeo of South Denver
The sales team at Mike Ward Alfa Romeo of South Denver in Highlands Ranch, CO, is excited to help you get behind the wheel of a stunning new 2024 Alfa Romeo Stelvio. For more information about how we can help you order your dream SUV, stop by our Denver Metro dealership today. We are ready to answer any questions you have about the range of Stelvio trim levels and how you can customize yours to be the most comprehensive version of the vehicle possible for your needs.   
(Photo Credit: Alfa Romeo)