Alfa Romeo 33 Stradale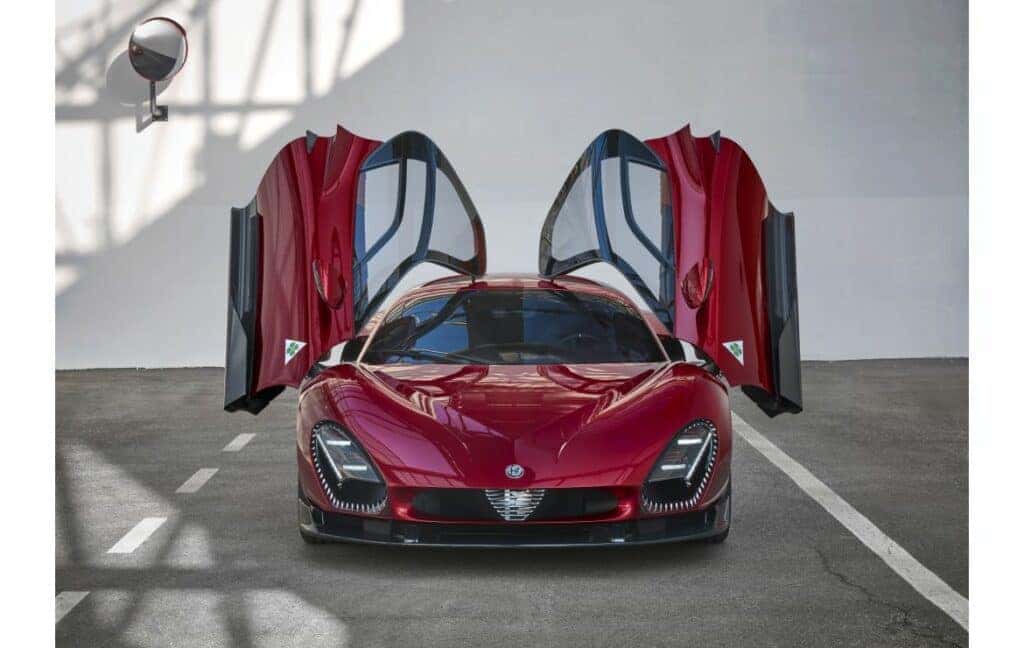 Alfa Romeo 33 Stradale
BASE MSRP: TBD
Horsepower: 620
Estimated City MPG: TBA
Estimated Highway MPG: TBA 
Get to Know the Alfa Romeo 33 Stradale
A special limited-edition release by the prestigious Italian sportscar maker, the Alfa Romeo 33 Stradale is quintessential Alfa Romeo perfection placed into a modern high-end vehicle. The design of the supercar blends classic Alfa Romeo style from the original Stradale from the earlier years of the brand with modern design concepts for peak performance and elegance. Propelled by either a traditional gas-powered engine or a fully electric option, there is plenty to be excited about with the 33 Stradale.  
Performance 
Two Different Powertrains to Choose From with the 33 Stradale

 

Gas-Powered Powertrain Comes with Smooth Shifting Dual-Clutch Transmission

 

RWD Handling for Pure Alfa Romeo Sportiness

 
The limited-edition vehicle comes with two different powertrains to provide scintillating performance capabilities across Colorado and the rest of the United States. A conventional gas-powered twin-turbocharged 3.0L V6 engine powers the standard 33 Stradale with an impressive 620 horsepower. This engine is partnered with an eight-speed automatic dual-clutch transmission and features a responsive RWD platform. Meanwhile, there is also an electric version of the 33 Stradale available that offers 750 horsepower of exhilarating performance in any situation. No matter which version of the 33 Stradale a driver is piloting, they are guaranteed to be behind the wheel of a majestic and invigorating vehicle.  
Exterior & Interior Features
Original Stradale Stylings Incorporated into the 33 Stradale

 

An Interior That Makes Classic Alfa Romeo Style Feel Modernized

 
Alfa Romeo took plenty of inspiration from the original Stradale when designing the new Alfa Romeo 33 Stradale. Fans of the original version will appreciate the familiarity of the newest supercar while also being entranced by all the modern design implementations. Inside, the 33 Stradale offers a clean, yet intricate cabin that adds to the overall high-end style of the vehicle. This includes having a touchscreen for the onboard infotainment system that hides away in the dashboard until it needs to be used.  
Learn More About the Alfa Romeo 33 Stradale with Mike Ward Alfa Romeo of South Denver
The special edition Alfa Romeo 33 Stradale is an exciting new vehicle from the coveted Italian automobile manufacturer. For more information about the elements that make this reimagining of the original Stradale so vibrant, contact Mike Ward Alfa Romeo of South Denver today. The sales team at our Highlands Ranch dealership will be happy to help answer any questions you have about this very limited-edition vehicle.  
(Photo Credit: Alfa Romeo)