Abundant Safety Features Found in the 2023 Alfa Romeo Stelvio Quadrifoglio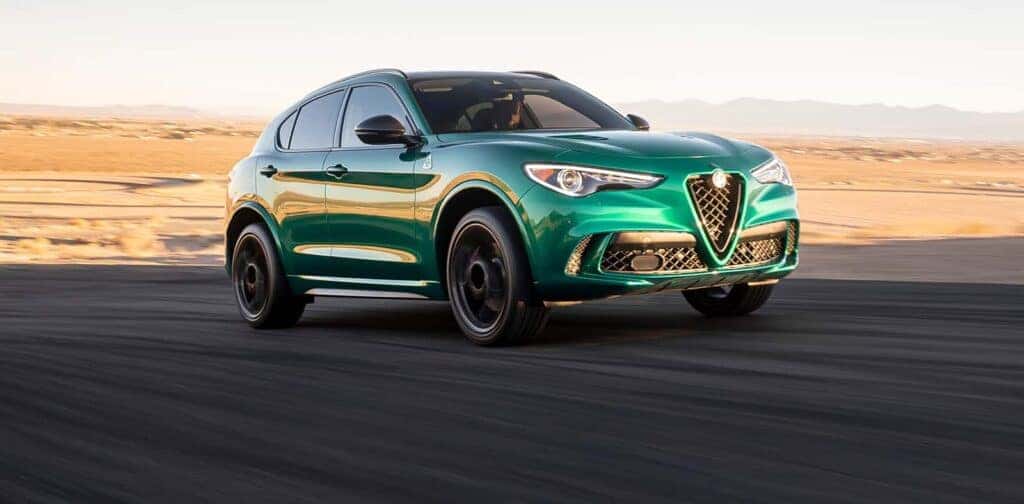 2023 Alfa Romeo Stelvio Quadrifoglio Safety Features
Experience Handling Excellence in the Deluxe 2023 Alfa Romeo Stelvio Quadrifoglio
Driving around cities and highways across Colorado often demands an SUV that can effortlessly handle demanding road and weather conditions such as snow and ice. Improved all-around handling is also required when trips to the Rocky Mountains are in the plans for the family throughout the year. As such, the AWD platform that the high-end 2023 Alfa Romeo Stelvio Quadrifoglio comes equipped with ensures drivers always have appropriate power being sent to any of the four wheels that need it most. Coupled with Electronic Stability Control and Driveline Traction Control, the maneuverability of the SUV on less-than-ideal road conditions is reliable.  
Supplementary Everyday Driver-Assistance Features to Accentuate Any Adventure
The 2023 Alfa Romeo Stelvio Quadrifoglio has more than just impeccable maneuverability and control systems in place to make it a premium family cruising SUV. It also comes with a selection of standard driver-assistance systems which cater to the daily city driving that the Stelvio Quadrifoglio will find itself navigating. Among the various systems that drivers can use for greater knowledge about their surroundings are Blind Spot Warning and Forward Collision Mitigation technology. These help the driver have access to information they can use to make informed decisions while dealing with busy traffic which is often synonymous with Colorado.  
Learn More About 2023 Alfa Romeo Stelvio Quadrifoglio Safety Features with Mike Ward Alfa Romeo of South Denver
Visit Mike Ward Alfa Romeo of South Denver in Highlands Ranch, CO for more information on the various safety features found in the 2023 Alfa Romeo Stelvio Quadrifoglio. As the deluxe version of the sporty Italian SUV, you can count on all the premium driver-assistance systems one would want from a modern vehicle in their luxury family cruiser. When you start shopping at our Denver Metro dealership for a vehicle like the Stelvio Quadrifoglio, you can trust that the sales team member you work with will take the time to answer any questions you have about the dynamic and scintillating Alfa Romeo SUV. 
(Photo Credit: Alfa Romeo)