2024 Alfa Romeo Giulia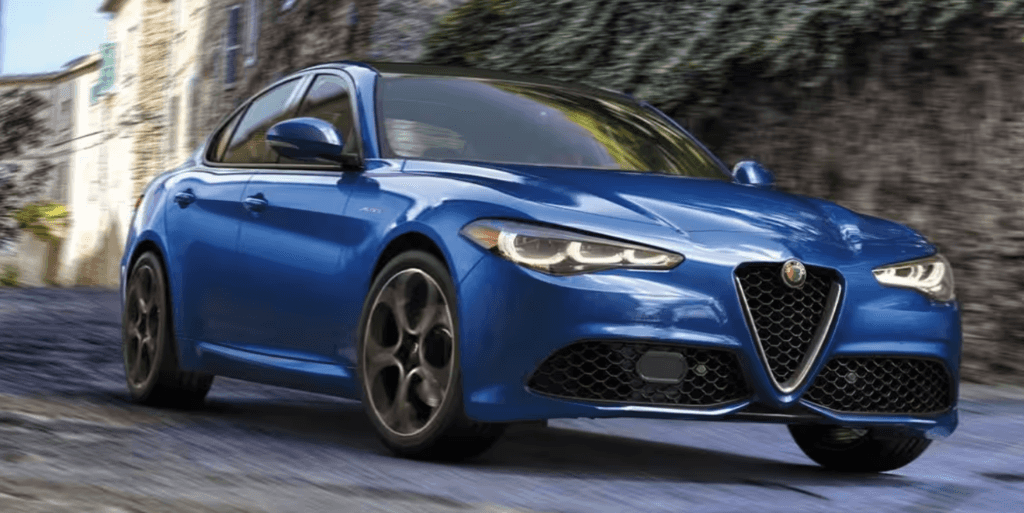 2024 Alfa Romeo Giulia
BASE MSRP: from $42,480
Horsepower: 280
Estimated City MPG: 24
Estimated Highway MPG: 33 
Get to Know the 2024 Alfa Romeo Giulia
The 2024 Alfa Romeo Giulia brings with it a variety of exciting elements to look forward to when searching for a luxurious and sporty sedan in Colorado. This marks the 100th anniversary of the deluxe Quadrifoglio, proving its superiority in the high-end sports car market.  To commemorate the historic milestone, there will be a special 100th Anniversary Edition of the high-end 2024 Alfa Romeo Giulia Quadrifoglio available in limited quantities. There are numerous reasons why making the 2024 Giulia the next addition to a fleet is a great idea for Denver Metro drivers or elsewhere on the Front Range.  
2024 Alfa Romeo Giulia Trims
Several trim levels are available for the 2024 Alfa Romeo Giulia. Whether opting for a sporty Sprint or the high-end Quadrifoglio, there is sure to be a version of the sports sedan to meet any expectations. Those interested in making themselves the talk of the town will want to consider opting for the limited edition 100th Anniversary version of the Giulia Quadrifoglio. No matter what iteration of the Alfa Romeo a customer chooses to purchase, they can be confident they are piloting a sensational everyday cruiser.  
2024 Alfa Romeo Giulia Sprint: MSRP from $42,480
2024 Alfa Romeo Giulia Ti: MSRP from $45,020
2024 Alfa Romeo Giulia Veloce: MSRP from $48,780
2024 Alfa Romeo Giulia Competizione: MSRP from $53,270
2024 Alfa Romeo Giulia Quadrifoglio: MSRP from $81,960
2024 Alfa Romeo Giulia Quadrifoglio 100th Anniversary: MSRP from $87,360 
Performance
Vibrant Powertrains to Deliver Excellent Rides Around Colorado

 

Standard RWD for Sporty Handling, Available AWD for All-Season Handling Reliability

 
Propelled by a superb 2.0L turbocharged inline-four engine, the 2024 Alfa Romeo Giulia is a sports sedan that delivers the quintessential Alfa Romeo drive that today's Colorado customers demand. All 280 horsepower that the engine generates offers drivers the scintillating bursts of seamless speed that they deserve when they press down on the gas pedal. Add on the equally smooth eight-speed automatic transmission for responsive gear shifting, and the Giulia proves to be the go-to choice for memorable rides across the Front Range. The Giulia Quadrifoglio goes a step further with its dynamic twin-turbocharged 2.9L V6 engine that delivers an impressive 505 horsepower of pure performance. RWD is the standard drivetrain for all 2024 Giulia models and helps the sports sedan excel in establishing a nimble handling profile. However, select trims of the Giulia can also go a step further and add AWD maneuverability if desired.  
Interior Features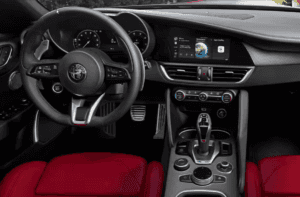 Sports Sedan with Plenty of Passenger Space to Enjoy

 

Many Standard & Available Comfort Features

 

Diverse Multimedia & Convenience Content for Any Colorado Adventure

 
The 2024 Alfa Romeo Giulia five-seater sedan has plenty of room to comfortably sit in with 95 cubic feet of total passenger space. To accompany this plentiful space, the family of sedans is equipped with a wide array of comfort amenities across the range. These include standard dual-zone automatic climate control for impeccable temperature customization throughout the year and standard heated front seating as well. This can be further enhanced on select trims through ventilation for a fully climate-controlled level of comfort, as well as having the option for heated functionality added to the rear seats.  Through the onboard infotainment system, everyone in a 2024 Giulia has access to numerous entertainment and convenience applications to better improve their overall experience in the vehicle. This includes a diverse array of media options including HD Radio™ and SiriusXM® radio capability. Drivers even get standard navigation built-in on every 2024 Giulia model.  
Safety Features
Elevated All-Season Handling with Available AWD Platform

 

Variety of Supplementary Handling Enhancement Systems

 

Driver Assistance Technology Offers Reliable Everyday Driving Opportunities

 
Systems such as Electronic Stability Control and Driveline Traction Control are found in every iteration of the 2024 Alfa Romeo Giulia and ensure that drivers have an elevated grip on virtually any driving surface that they take the vehicle on. When equipped with the available AWD system on select trims of the sports sedan, this handling precision is brought to an even higher level of excellence. Every 2024 Giulia is also fitted with an array of driver-assistance features to make everyday city driving in Colorado a much more confident process. Predictive Brake Assist, Forward Collision Mitigation, and Blind Spot Warning all offer a diverse range of comprehensive coverage all around the sedan to let drivers make informed decisions when dealing with busy traffic.  
Shop for the 2024 Alfa Romeo Giulia at Mike Ward Alfa Romeo of South Denver
Mike Ward Alfa Romeo of South Denver in Highlands Ranch, CO, is ready to help you get into a 2024 Alfa Romeo Giulia so that you can experience prestigious Italian excellence. Visit our Denver Metro dealership today and ask to figure out how we can get you into your dream Giulia, including the deluxe Quadrifoglio. When it comes to luxury vehicle shopping in the Front Range, Mike Ward is a highly respected destination because of our commitment to excellence throughout the shopping process.   
(Photo Credit: Alfa Romeo)